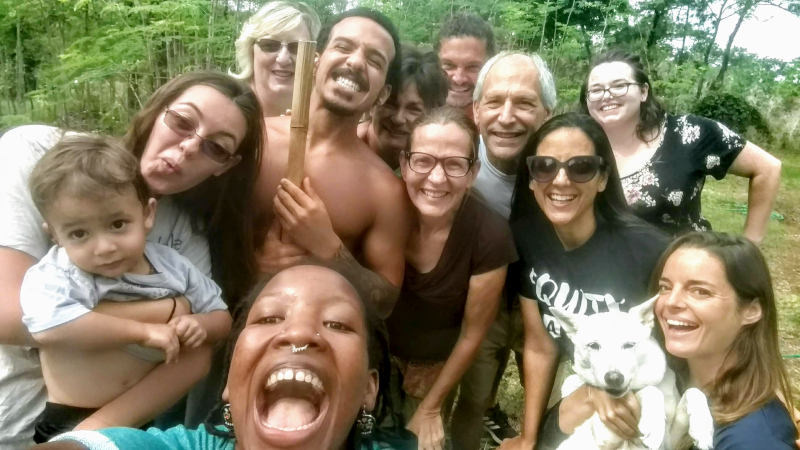 Permaculture is an interesting way of life, it is made up by two words, permanent and culture, but is however a much wider subject than what the name indicates. It literally covers a huge part of life, and it does so in a sustainable and regenerative way. Created by Bill Mollison and organized by David Holmgren, it is the how-to anyone can be more self reliant with a minimum of resources.
It does not teach you how to, for example, build a house, but it does give you the tools to learn to do it in a sustainable, regenerative and resilient way as part of what is known as Whole System Design. This is a powerful yet simple way to approach problems and design something that is adding more than it takes. In short, if properly done you can apply it over and over and be more and more beneficial to you and your family, friends, society and life on our planet.
It starts with ethics as the foundation. Without personal ethics you may have no reason to evaluate your actions in such a way as to be more beneficial than detrimental. You may, for example, only think of yourself to get maximum gain right now. Not bothering to see what it does long term, not only for you but everything else that lives on this rock we all share.
When society is more driven by money than care for each other and the planet you can say it is off kilter (off balance). Money is simply an idea to make life easier that everyone has agreed to. The alternative is exchanging products and services and with food being the most basic product, it easily becomes a logistical problem to, for example, haul farm products around so that you can exchange it for other things. Much easier to use money for the exchange. Money is not evil, it is the use of it that makes it so.
And like the wobbling wheel on a car, or cart, it tends to only get worse and worse. Society functions in much the same way when personal integrity has left the building. When the scarcity pushes a big enough part of society to be focused on money above all else, then one cannot be surprised to see a society out of whack. To see more upsets and the resulting violence, to see a drive towards helping fewer and fewer people, until only yourself, which is a clear indicator that there are fewer and fewer leaders who are doing any leading.
The progression of making money scarce, has and is creating famine, despair and wars as people try to find solutions in a society which has lost it's balance. Witness the attack on the US Capitol. Each side being convinced they were in the right. Observe how the storming was the culmination of people who felt disenfranchised, or left out of the process. How their solution was not based on a legal process but on force. It also lacked basic understanding of the laws of the land, specifically who can change the outcome of the votes cast in each state. They sounded like they were willing to hang the Vice President if he did not do what he had No Power To Do. And shoot the Speaker for something she Had No Power To Do.
In other words it was, however baseless, a futile exercise that had no chance to succeed in bringing about the change they so believed in. They felt so in the right that they themselves became guilty of what they accused Congress of.
This was not the culmination of a short term problem but a much longer one. One based on not able to have, not being able to share in the benefits of society over a very long time. So long that any other reality was long lost. You can see how despair on a large enough scale will bring about chaos and war. To our very own society.
What can we do about it?
Permaculture introduces approaches that mitigates the problems we face in our daily lives, it teaches us how by working towards the greater good we can and do win in spite of the problems we face. In short something can be done where everyone can contribute to and be part of. When all are doing well crime diminishes as the unusual solution it is. Permaculture is not a theoretical subject but is based on real hands on solutions that anyone can learn and apply, it is a solution for the people by the people.
An example, pertinent to these days where food is ever more on peoples minds permaculture offers the food forest, a method of growing your own food that anyone can learn. Food safety is important.
Permaculture is likened to a flower where Ethics and Design Principles are the foundation. Spanning it are seven petals:
– Building,
– Tools & Technology,
– Education & Culture,
– Health & Spiritual Well-Being,
– Finance & Economics,
– Land Tenure & Community Governance,
– Land & Nature Stewardship.
I'm fortunate enough to know a world renowned permaculture instructor and designer who is not only on the national board but has trained most of the permaculture designers in Florida, in full disclosure, a person who I joined forces with and am contributing to her classes and benefit from our clients and graduates. The school is called Grow Permaculture and is located in central Florida. We hold regular classes and are delivering the famous Permaculture Design Course (PDC) in both urban and farm focused courses. It comes with a world recognized certificate.
In addition there are design and consulting services that we make for our clients. I recommend you check it out!